When it comes to the renovation work, I'm a stickler for the details – the little finishing components that help unify and bring together everything you see. They are what really completes a project and brings your original vision into focus. Here are some of the details around our house that you might not notice at first, but they were carefully considered:
Bench legs – We have a fabulous kitchen banquette. It sits on ten short legs. They were originally gold in color – and made in Yugoslavia. The caps were rusty and they were clearly well-used, since they were original from 1961 or so when the bench was built. As part of finishing the kitchen remodeling, we got the bench recovered but I knew I also needed to tackle the legs. I could have found some new ones, but decided to see what I could do with what we had. Using the bench grinder and wire brush set on the workbench in the basement (thanks Grandpa Rynkus!), I stripped the wood, cleaned the metal, and eventually stained and repainted them. They now look like this:
Door Knobs – The original set of knobs in the house was matched and was a brushed bronze tone. They were great, but at 52 years old, they were beat. In addition some of the entrance doors over the years had come to have different non-matching locks. And to top it off, we really wanted polished chrome as the accessory color instead of bronze. So we replaced them with all-new Schlage Orbit knobs and locks. In addition – and here is the detail – we replaced all of the hinges, converting them from a brass finish that went with the old sets, to a polished chrome finish to match the new ones. I even got a nice polished chrome doorbell button and went to Rejuvenation to get their square escutcheon – identical to the original bronze one. Here's what they look like now:
Switches and Outlets – My grandfather was both a mechanical and electrical engineer. He did some pretty awesome things around the house, wiring in indicator lights to tell you if the basement or garage light was left on, etc. But 50 years in, those original plugs and switches and such came to be somewhat mismatched. The original ones were standard Leviton, but my Grandfather changed several out for Pass and Seymour Despard-system units which let you pack more into a tight space but don't match. I wanted the outlets and switches to be white, and specifically to be all Leviton Decora, so they matched across the whole house. I put indicator lights where appropriate, and all key lights have neon pilot lights to enable them to be found easily in the dark. Additionally I switched out all cable and phone jacks to match, in Decora. Replacing all of these and figuring out the wiring details of the more complex ones took quite a long time…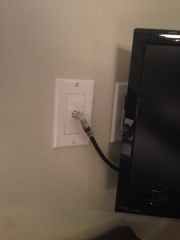 So the next time you come to visit, take note of the details around the house – they should all be in order!
Here's the whole collection all in one shot: