As part of the work in the kitchen, one thing I really couldn't handle was the cabinets on the peninsula being so low – they effectively cut off the prep area of the kitchen from the banquette area, as you can see in this before picture: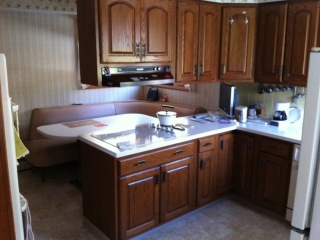 The cabinets we have are all Wood-Mode, installed 1986, and the countertop is Corian, installed 2007. They are both in great shape – the cabinets are not specifically mid-century compatible, but they are very rich and when accessorized well, don't do any harm. We replaced all of the hardware on the cabinets to start – eventually we may re-face, but that isn't an option for now.
I wanted the cabinets in the peninsula to be higher, but we could not get rid of them: one, we wanted a microwave hood combination so the microwave doesn't have to live on the counter like my Grandparents had it. Second, we really didn't want to sacrifice the cabinet space. I settled on rebuilding the two cabinets above the peninsula to accomodate our needs.
For the microwave cabinet, I took the cabinet to a cabinet maker in our area, Ted Slavin at Slavin's Old Time Workbench. He had done some other work for us before (modifying a cornice) and it's always been excellent. Working with him we came up with a system to mount the microwave into the cabinet – no small feat, since microwaves of this nature are designed to be mounted on a wall. We had to be creative and make sure the cabinet was constructed correctly and could be assembled\disassembled as needed.
The other cabinet I decided to shorten myself. With a little help from some of my friends with a table saw setup, I got the cabinets cut to the lengths needed. Here at the house I pulled apart the various components and went to work with my clamps, router and glue:
One of the great things about having very nice Wood-Mode cabinets is that the Wood-Mode folks will rebuild any cabinet or parts for you pretty much forever. You send them a sample door from one of your cabinets and they will build a new door and stain it precisely to match. The downside is that it's not cheap. (two doors and a drawer front – almost $400. Still cheaper than $1500 for two entirely new cabinets.) A quick trip to our local dealer (Belknap Lumber) with the correct measurements and I was able to place an order for new cabinet doors as well as a cover piece for above the microwave. It took quite awhile for it to arrive (ironically coming in three days after our housewarming party), but we were really pleased with the results. As a trade-off, we installed the microwave a bit higher than is typical, but you don't notice unless I point it out. Here is the process from start to finish: