So in our kitchen we had the original wall-mount telephone jack. Straight from 1960, it even has the Bell logo on it. Talking to my mother and aunt about it before, they mentioned that there was always the kitchen phone when they were growing up – a big boxy rotary phone – and it was the only phone they could use. The only other phone was in my Grandparent's bedroom. I even recall it there when I was a kid. By the late 1980's it had been switched out for a cordless phone, and when we moved in a cheap white corded phone was hanging there.
For the kitchen, I found a great vintage phone – a Western Electric 554A/B in yellow. It's the rotary phone you think about when they say "old kitchen wall phone." It's built like a tank because, at the time (pre-1984 breakup of AT&T), the phone company owned the phones – you simply leased them. If it broke, they had to repair or replace it. It turns out it's a great accent in our kitchen and complements the yellow backsplash tiles (original) and Rejuvenation Astron pendant lights over the banquette. It's practically a piece of mid-century art on the wall: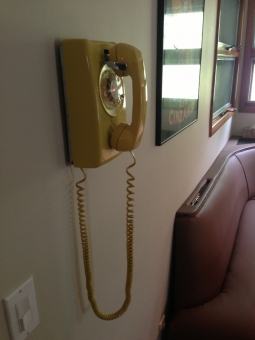 But of course with no landline, this would just be for show. I wanted to correct this, though. After doing some research I figured out that I could do more – much more in fact.
I got to thinking about how it would be great if I could still actually use these phones around the house. Given that our cell phones have bluetooth, surely there must be a way to link all of this together? It turns out there is. A little bit of research led me to purchase an Xlink BTTN "Bluetooth Cellular Gateway" – this is basically a device that, when your cell phone is in the house, uses Bluetooth to connect the box to your cell phone. When someone calls your cell phone, it rings any phones (like your home ones) connected to it. You just pick up any phone to answer. Another call comes in? It supports Call Waiting. Have a Caller ID phone? It will send the Caller ID to the phone. It links three separate cell phones to the device and can juggle them. Oh – if you have an iPhone, you can pick up any handset, dial ## and use Siri too. It's pretty spectacular. The only real limitation is that Bluetooth only works within about 15 feet, so you have to leave your cell phone near the device. I don't want this limitation, so I've ordered an external antenna and am going to hack the device to enhance the Bluetooth range.
But now for us, the bottom line is that when someone calls us on our cell phones, we don't have to run across the house to figure out who it is – the kitchen phone rings (with it's awesome bell ringer), and our cordless phones get Caller ID identifying not just the number but (if the person is in our phone book) the name of the contact as well. We can literally grab any phone to take the call.