The temperatures around here have been warming up the last few weeks – we're regularly in the 50s and sometimes low 60s. Before everything starts blooming, I've been working my way around the property getting some basic clean up done. Our property is on a gentle hillside, and it slopes from the front to the back. The house is pretty much smack in the middle and fill was placed around the back of the house to create a nice flat area around around the house and then it drops down to the lower portion, where there is another flat area. My grandfather used to assiduously mow every inch of the property, but when he became too old to mow and Grandma hired mowers, she decided she didn't want to pay them to mow the lower portion. So, she let it overgrow and when asked, would tell you she was enjoying her "meadow." It looks like this:
Of course it's a haven for deer. Which means it's a haven for ticks and other things. Like large thorny bushes seeking to maim your tender flesh: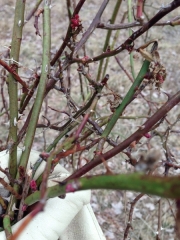 Given the threat of grievous injury caused by these nefarious plants, I've begun clearing the "meadow" and preparing it for mowing. Over the course of the summer I'm going to try and reclaim a large portion of this area, though the lowest portions will require some work. There are also a number of trees that I need to take down on the lowest portion of the property because they area dying or already dead. We'd also like to put a garden in somewhere in the lower portion in the next few years.
The backyard of this place is great. The property is just over 1 acre, and off the back of the house is a nice covered bluestone patio that overlooks the large backyard. We even inherited the patio furniture. One of my projects is dismantling the furniture and stripping the paint (not original) and returning it to a nice redwood stain.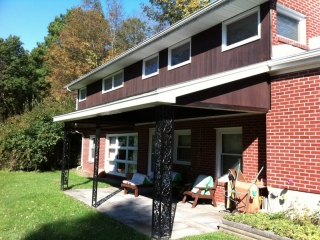 Later this summer, besides getting married, one of the biggest projects will be getting rid of the forsythia bushes on the back corners of the house. We love the forsythia, but they are too large for the house (have a look at the pictures here, and want want to reclaim the flat space around the house because it is very valuable. Plus, we have several other forsythias around the property.

More to come as progress is made!