After we first moved in, we had our work cut out for us – we originally planned on getting all three bedrooms cleaned and painted, but the house had other plans for us. Sometime in the 1980s my Grandmother and one of my aunts put wallpaper in the master bedroom. This delayed us finishing the master bedroom until not only after we moved in (we stayed in the middle bedroom for the first month), but also after the living room. Mary still gripes about removing the wallpaper.
As of 2011, the living room looked like this: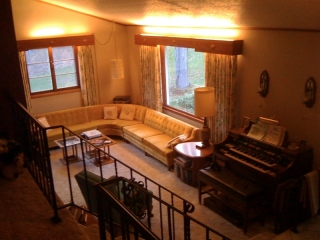 I'll just run down the list of things you see in this picture:
– That giant organ. My grandmother was fearful that if we didn't find it a home it would end up in "some honky tonk." Because, clearly, that is where all good organs go to die. It's a mid-1970s Hammond all-electronic organ. Pretty fancy. We found it a home in a little church about an hour away. I'll save that story for another post.
– The couch. It is gold crushed velour. Recovered in 1983, it was purchased by my grandparents in 1962 or so. We had it reupholstered in a black leather-like upholstery. It's now awesome.
– The end tables and coffee table set. Those are Heritage Perennian furniture. We have one of the end tables, though the remainder were taken for use by my grandmother when she moved.
– The hanging lamp. It found a home in the workshop at our good friend Becky's place, who owns Ever After Botanicals.
– Not quite sure what happened to the gold jeweled lamps at this point. My mother and aunts used to argue over them. They're odd birds.
So what did we do? Well, after painting the walls we immediately pulled up the carpet to reveal the wood floors. No refinishing needed – they had been covered since 1962. I also used the opportunity to paint the ceiling as well – big improvement. We also took down the curtains. I've mentioned before Mary and I are not fans of full-coverage window treatments. Our plan is to eventually install solar roller shades in the cornices, though we haven't yet.
For the cornice over the smaller window I took it to a local cabinet maker who did a great job shortening it by about 16 inches. With the window treatments we wanted to use, we didn't need it to extend as far to accomodate the draperies like before.
Both cornices have vintage "Moe Lighting" kits. After a lot of careful research into what lights to replace them with I decided the best course of action for now was to just update the fluorescent lighting. I had considered replacing them with LEDs, but to get the appropriate brightness and throw given the cathedral ceiling it would have been very difficult. So, I re-wired all the fixtures with a new ballast arrangement and cut the energy use from 100-150 watts per set to 35-40, with brighter lights to boot. Huzzah!
I found an awesome pair of vintage Jens Risom chairs as well. At one of our nearby closed IBM facilities (Glendale), I have a client for work that is in part of the space. They had the chairs extra and didn't want them. They are corporate furniture that Risom's firm designed in the 1960s for IBM; I had them reupholstered to match the couch.
Lastly, we needed to get the other built-in lighting the way we wanted. The defining feature of the living room (and foyer) space was the chandelier sputnik fixture. The originals were brass, but we converted the lighting to be polished chrome. In addition, the ceiling gimbal lights were brass – we sent them to Sandy's Bumper Mart in Syracuse who polished them up and made them silver.
We're not quite done yet, but we're done enough for pictures. We are looking right now for a Noguchi-style coffee table, and doing our homework on a nice Eames lounge chair to replace the red Ikea chair currently in use.
So, without further adieu, here are the progress shots from beginning to end on the living room: