Shortly before moving we, we were fortunate to be able to get some work done in the upstairs bedrooms – cleaning and painting – so that we didn't have to sleep in the middle of a construction zone. We spent some time researching colors for the house (more on that in a different post) with a friend who does some interior design work, Keith Weston at Upstate Office Furniture (Full disclosure: we did their website. :))
As you may recall, the bedroom looked like this before: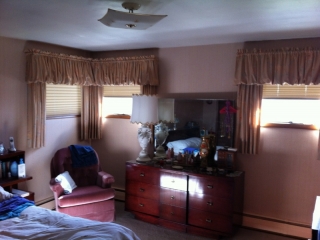 My Grandparent's furniture was a testament to what Pam Keuber at Retro Renovation calls "Mid-Century Modest" style – items that looked nice but were not expensive. Purchased in the early 1960's from local retailer Olum's, they served my Grandparents well for fifty plus years. The carpet is an area rug – the original oak flooring in nearly pristine condition remains underneath. We refinished the window trim in this room because the sun had really taken a toll on it, and then Mary spent quite a long period of time learning the most effective way to scrape wallpaper, a task she will tell you is a whole lot of not fun. The color we chose for the bedrooms is called "ancient olive," it is a very light green that we feel brings out the richness of the wood. Looking at the floors, you may notice they have an orange tint. We're pretty sure that is because they are covered in amber shellac, and not stain with polyurethane. This does make them a little more susceptible to scratching as shellac is not as hard when dry. Those floors – original finish. Never been refinished. And yes, under the wallpaper the wall was, at one point, mustard-yellow. Ahh, the 1970s.
In addition, we changed the lighting scheme in the room. Instead of having a central ceiling light and using lamps, we added seven can lights around the perimeter of the room and put a rather sweet looking mid-century compatible ceiling fan in the center. The can lights are controlled by a dimmer switch and the fan has a remote control – a vast improvement.
Here are the progress photos to completion: