Our house is what we would classify as a medium-sized house: a bit over 2000 square feet, three bedrooms and one a half baths with an attached two-car garage. As a back-split, the house has some really awesome structural features. For instance, there are no load-bearing interior walls. In addition because there is a common interior wall between all levels, running things (like a wire from the attic to the basement for our TV antenna) is ridiculously easy – you just put it down the chase. Drop ceiling on the lower level? That equates to easy access to any underfloor areas. Smart and crafty, that grandfather of mine.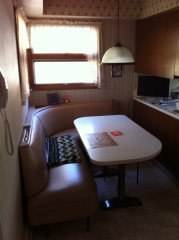 The kitchen has two really great features. First, it has this awesome built-in bench as you see in the above picture. It was built around 1962, and has been reupholstered several times over the years. The covering in this picture is from the late 90s and it definitely shows. That patterned wallpaper? 1986. I know you're jealous. But as you can see – lots of windows (8!) and lots of light.
The second great thing is the layout. The kitchen isn't terribly large but it packs an immense about of things into the space: a double oven (visible just on the left edge of the picture), the drop-in range in the peninsula, and a whole lot of cabinetry goodies.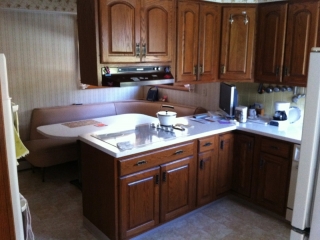 These aren't the original cabinets, unfortunately. The originals are actually in the basement hanging – they were slab-front birch cabinets. Pretty spectacular but they were pretty worn out by the time my grandparents replaced them. The cabinets here are Wood-Mode, installed 1986, and the Corian countertops were installed in 2007. The backsplash is the original yellow ceramic tile – we will be keeping that but modifying some of the cabinets (to make more open space between the bench and the main kitchen and to accomodate a microwave.)
Back upstairs is one of the other interesting things around the house: a mint condition 1960 bathroom. Other than replacing the floor because the original tiles started coming up about 10 years ago, this bathroom is exactly the way it was built in 1960. Original brown ceramic tile, hand-built cabinets with chrome pulls, chrome light fixtures, Hall-Mack chrome bathroom accessories and all American-Standard sinks, tub and toilet in "Venetian Brown" – but they are real close to pink. In addition, the famed Hudee Ring as documented over at Retro Renovation. The above picture is of the two sinks, which are known as "slant-back" because the mounting space for the faucet is set at a 45 degree angle. Finding a faucet for these? Not easy. But I succeeded.
More to come.